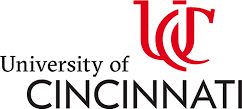 University of Cincinnati
Cincinnati, OH


$40,000-43,000 per year

Permanent

Full-time
Current UC employees must apply internally via SuccessFactors >
Founded in 1819, the University of Cincinnati embarks upon its third century – building on the past and defining the future by leading urban, public universities into a new era of innovation and impact through its strategic direction, . Underscoring the power of creativity, ingenuity, invention and inclusion, what's Next will accelerate our unrivaled momentum, evidenced by eight straight years of record enrollment and rankings that include placement among America's top 100 public universities by U.S. News & World Report. Home to a diverse student body of nearly 47,000 and more than 4,200 distinguished faculty, the university combines its Research 1 (Very High Research Activity) Carnegie Classification with a physical setting that The New York Times recently acclaimed as "the most ambitious campus design program in the country.
Job Overview
The College of Allied Health Sciences educates and prepares future allied health and other health science professionals to provide high quality service in their respective fields. In conjunction with community-based partners, students achieve clinical skills and learn the values of critical thinking, good communication, teamwork, cultural competence, and service learning. The college's faculty is committed to excellence in teaching, research, service, and leadership.
The College of Allied Health Sciences Office of Student Affairs is searching for a full-time Academic Advisor to work with our undergraduate students and programs.
Salary Range : $40,000 – $43,000
Essential Functions
Provide academic advising to facilitate students' successful and timely educational planning and degree completion in alignment with their educational and career goals.
Serve as advisor for a designated caseload of students through proactive outreach, support, and education. Develop a rapport of trust and accessibility with assigned students. Ensure accurate advice and quality support, contributing to persistence and a positive student experience.
Monitor student progress and develop graduation plans in partnership with individual students. Provide information regarding curriculum, policies, procedures, opportunities, and guidelines for academic programs.
Evaluate student information and utilize data to facilitate enrollment and registration. Maintain advising and enrollment records. In partnership with faculty, assess advanced standing credit, substitute courses to meet graduation requirements, and create degree audit exceptions. Facilitate and complete student degree certification.
Evaluate student needs and provide appropriate resource referral to career, academic, counseling, and student life resources and opportunities.
Support students through educational transition processes (ex. orientation, exploration, transfer, transition, and graduation.)
Recommend actions related to academic alert, probation, suspension, and dismissal of students. Identify opportunities for high-performing student engagement and goal attainment.
Utilize current advising and student success technologies for outreach to students. Perform other duties related to student success.
Support student needs with sound equity and inclusion practices for student success.
Engage ongoing professional development and training to maintain up-to-date knowledge about advising concepts, practices, policies, technologies, and student success needs at the university and in higher education.
Function as a member of an advising or student success team to ensure the proper workflow and outcomes of the unit. Collaborate with UC advising community colleagues to advance quality advising practice.
Attend related meetings and functions.
Perform related duties based on departmental need. This job description can be changed at any time.
Required Education
Bachelor's Degree
Required Experience
Zero (0) to one (1) year of student service or related experience.
Additional Qualifications Considered
Master's Degree preferred.
Undergraduate student service and/or leadership may be considered.
Ideally one year of previous experience in advising and counseling of students preferably in a higher education setting.
Academic Advisors are responsible for communicating with current students in one-on-one and group settings. Strong interpersonal communication skills as well as verbal communication skills are required.
It is imperative that Academic Advisors possess strong written communication skills. They will be expected to communicate with current and prospective students through letters and e-mails in a professional and articulate manner.
Academic Advisors must be proficient in basic software packages (Microsoft: Word, Excel, Power Point, Teams, Outlook) as well as other tools used at University of Cincinnati: Slate, Catalyst, Inspire, Canvas, and WebEx. As technology continues to improve the efficiency of the academic setting, Academic Advisors must be willing and capable of learning new technology. Innovation with technology is highly encouraged within this role of Academic Advisor.
Candidates must be able to thrive in a fast paced and ever-changing environment.
Physical Requirements/Work Environment
Office environment/no specific unusual physical or environmental demands.
Application Process
Applicants must submit a resume/CV and cover letter to be considered for this role.
The University of Cincinnati, as a multi-national and culturally diverse university, is committed to providing an inclusive, equitable and diverse place of learning and employment. As part of a complete job application you will be asked to include a Contribution to Diversity and Inclusion statement.
As a UC employee, and an employee of an Ohio public institution, if hired you will not contribute to the federal Social Security system, other than contributions to Medicare. Instead, UC employees have the option to contribute to a state retirement plan (OPERS, STRS) or an alternative retirement plan (ARP).
The University of Cincinnati is an Affirmative Action / Equal Opportunity Employer / Minority / Female / Disability / Veteran.
REQ: 67123
SF:OMJ SF:RM SF:HEJ, SF:INS SF:HERC SF:DIV SF:LJN
University of Cincinnati